The Best 6 Cat Supplies for Your Feline Friends in 2022
18 March, 2022
by Jerry W.
Cats are among the most popular pets worldwide. They are intelligent, pretty, fascinating creatures. It's pleasant and interesting to live with cats since they bring you love and a unique experience. However, once you do have one or several cats as your companion, you are supposed to create them a comfy and fun home. They need love and care and basic needs, including food, water, places to sleep and play, etc.
Here we come up with the most popular six cat supplies and accessories covering the comfortable cat bed, cozy cat hammock, versatile cat condo, fun scratcher and practical carrier. Hopefully, this will help you find the perfect item for your favorite feline friends.
The cats typically need 15 to 16 hours to sleep or rest every day, and some even need up to 20 hours. So, it's essential to prepare your Kittie a soft and comfortable bed.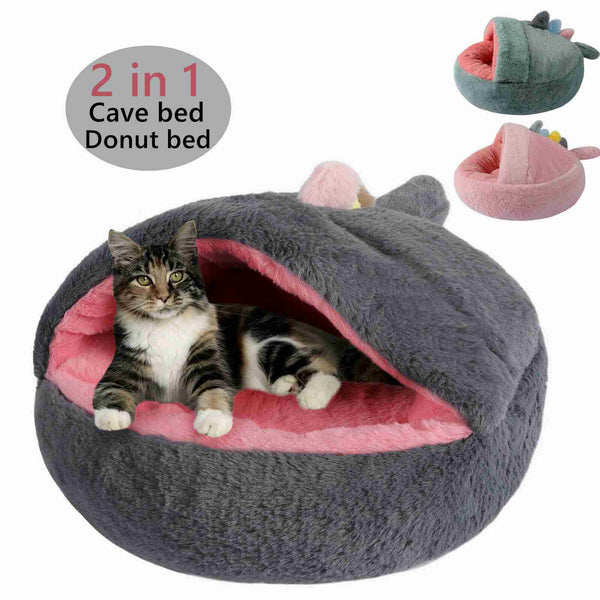 This cat cave bed is made of long plush material and premium PP cotton filling, soft, warm and breathable. The hooded cover design will provide extra warmth and security on chilly days. Meanwhile, you can press the cover down to make a donut bed in warm seasons, which is still comfortable to sleep in.
The cats will be more thrilled to find a bed where they can sleep and play. This cat hammock will make a fun rest spot anywhere in the room.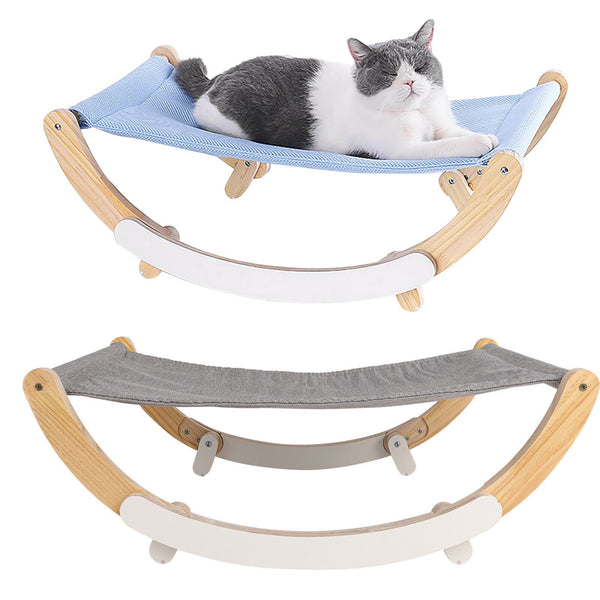 The hammock bed is constructed with a padded linen bed and a solid wooden base. It will swing cozily like a cradle, which adds fun to this bed. Once you rotate the wood feet and lock them, it will turn into a stable bed for the cat to have a good sleep. The elevated design and the replaceable linen mat with great breathability ensure better ventilation of this bed.  
If you have more than one feline friend at home, a cat condo will be a perfect option. The multi-tier cat tree tower condo can provide ample space for two to three cats to play and rest.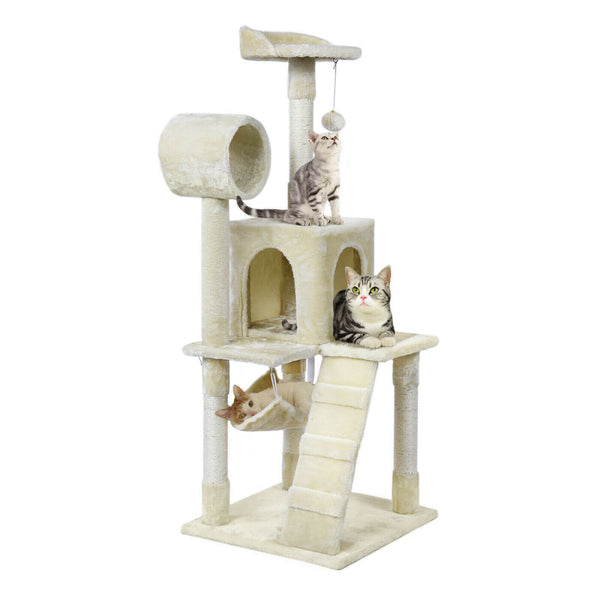 This cat condo is designed with a top round platform, a fun tunnel, a soft hammock, durable scratching posts and a fun hanging toy ball. It allows cats to perch high, play and rest freely.
It's not a secret that cats love to scratch, and it's great for their health. Cats scratch to keep the claws in proper shape and reduce mental stress. Therefore, a scratching post is a must-have item to save your valued furniture from the cat's claws.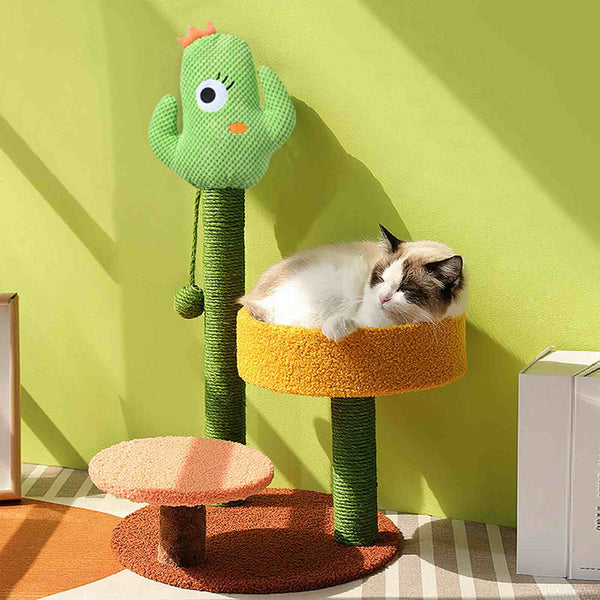 This scratcher combines a cat scratching post and cat tower, making it an ideal playground for little kitties as well as a unique decoration in the room. They can sharpen claws while stretching their legs high to the lovely cactus. And there's also a comfortable platform to snug in and relax.  
Security will be the first consideration for cats who love to stay outside on the balcony, patio, or in the yard. This outdoor wooden cat house can be a safe shelter for them.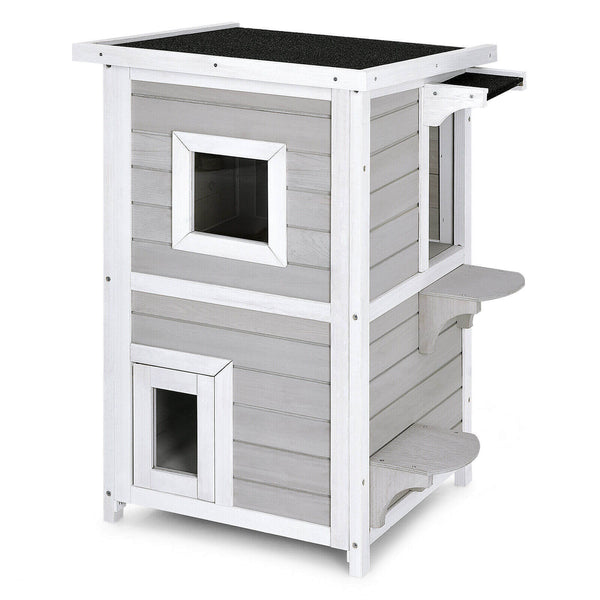 It's made of natural fir wood and treated with a non-toxic water-proof coating, featuring a sturdy structure and weather-resistant surface. Inside the two-tier house, there's a spacious seating area for the cats. The roof is detachable for easy cleaning and good ventilation. The doors and windows will provide a good view both to look in and out.  
If you are going to take home a new kitten or you'd like to go for a picnic outside with your favorite feline kid, a comfortable cat carrier will ensure a pleasant and safe journey.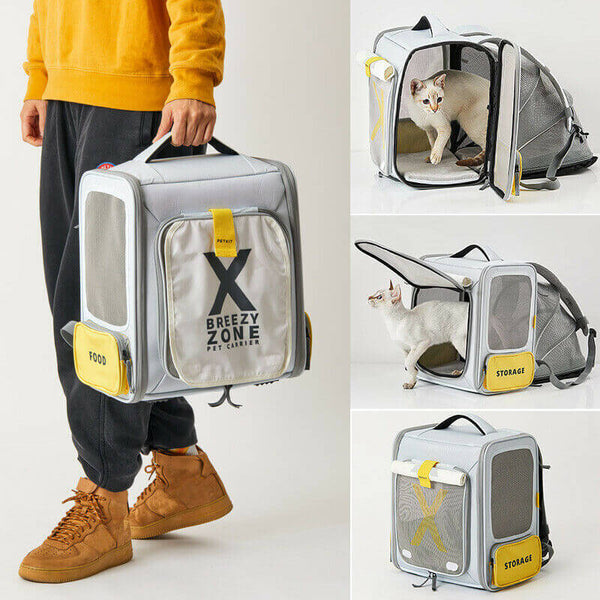 This padded pet carrier with an extra tent offers adequate, comfortable moving space for your cat. The mesh fabric will bring the cat a better vision and more fresh air inside, reducing their anxiety during the journey. Additionally, high-quality zippers and sturdy straps will enhance the pet's security.
Explore more pet supplies on BCBMALL.