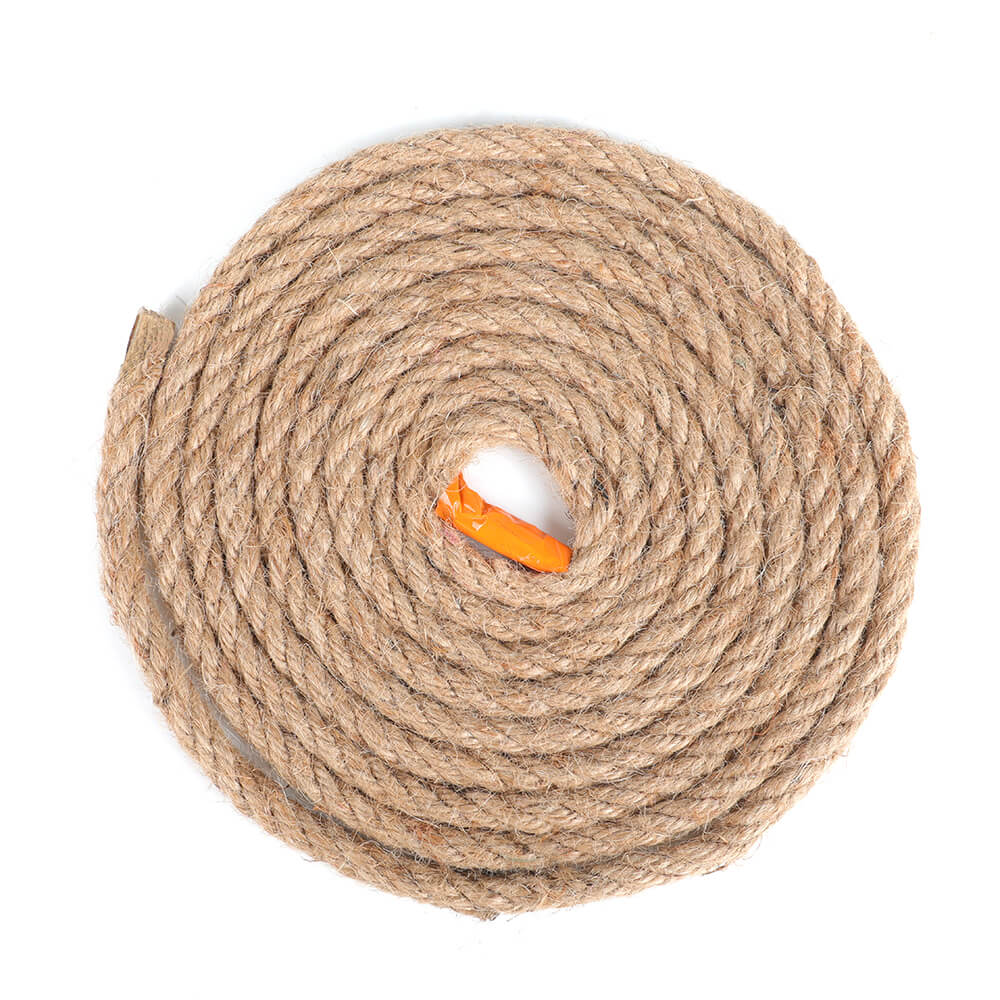 Manila rope, commonly referred to as "hemp rope", is a flexible and durable rope that has maintained its popular reputation through the years. Made from the leaves of the abaca plant, this natural rope comes improved with natural mineral oil made to withstand any weather. Unlike synthetic rope, the manila rope does not melt when coming in contact with hot wires, making it the choice rope for contractors working around live wires. This environmentally-friendly high-strength rope is timeless making it your best option for any project!
Features:
Manila Ropes

1.This versatile rope is tough in strength and sturdy with a vintage look making it great for any heavy-duty project and ornamental alike.
2.Works great for hauling, landscaping, towing, safety line, climbing, fence rails along pathways, handcrafted bags, carpets, clothing, furniture, and hangings. Decorative and functional.
3.Manila rope is resistant to saltwater damage giving it multiple nautical applications as well such as hawsers, ship lines, and fishing nets.
4.Due to its strong composition and durable design, this all-natural rope is easy to cut to size by wrapping with tape and cutting with a sharp knife.
5.Environmentally friendly rope that is all-natural and chemical-free.
6.comes in a variety of lengths and widths. Length of 10 feet, 25 feet, 50 feet, 100 feet, 200 feet. The thickness of manila ropes can also be chosen from diameter options of 1/4 inch, 5/16 inch, 1/2 inch, 5/8 inch,
 1inch
HOW TO STORE
The Manila natural fiber rope can be kept in any place around the house or garage with good ventilation. Dry areas work as the best place to store this large brown rope. It can also be stored in a shed or backyard. Keeping the rope covered will increase its life-span
Specification:
M
aterial: 
THE NATURAL FIBERS OF THE ABACA TREE, Wear Resistant and Durable.
Diameter : Metric : Tensile Strength : Safe Load
1/4-Inch : 6 mm : 540 lbs. : 45 lbs.
5/16-Inch : 7.9 mm : 900 lbs. : 75 lbs.
1/2-Inch : 13 mm : 2,385 lbs. : 200 lbs.
5/8-Inch : 16 mm : 3,960 lbs. : 330 lbs.
1-Inch : 25 mm : 8,100 lbs. : 675 lbs.
Package Included:
Free Shipping in the USA
We provide free delivery service to 48 States!
Notice: we do not ship to the following locations: the states of Alaska, Hawaii, all off-shore U.S. territories and possessions such as Puerto Rico, Guam and the Virgin Islands, APO and FPO.
Orders will be sent out within 24 hours (Monday - Friday) or 48 hours (Saturday or Sunday).
The standard delivery time is 3-7 business days (varies by destinations).
See our Shipping Policy for details.
30 Days Return & Refund
If you are not completely satisfied with any of our products for any reason, just feel free to contact us, we will help you get it solved.
All products you purchased from BCBMALL can enjoy a 30-day return & refund service.
See our Return & Refund Policy for details.