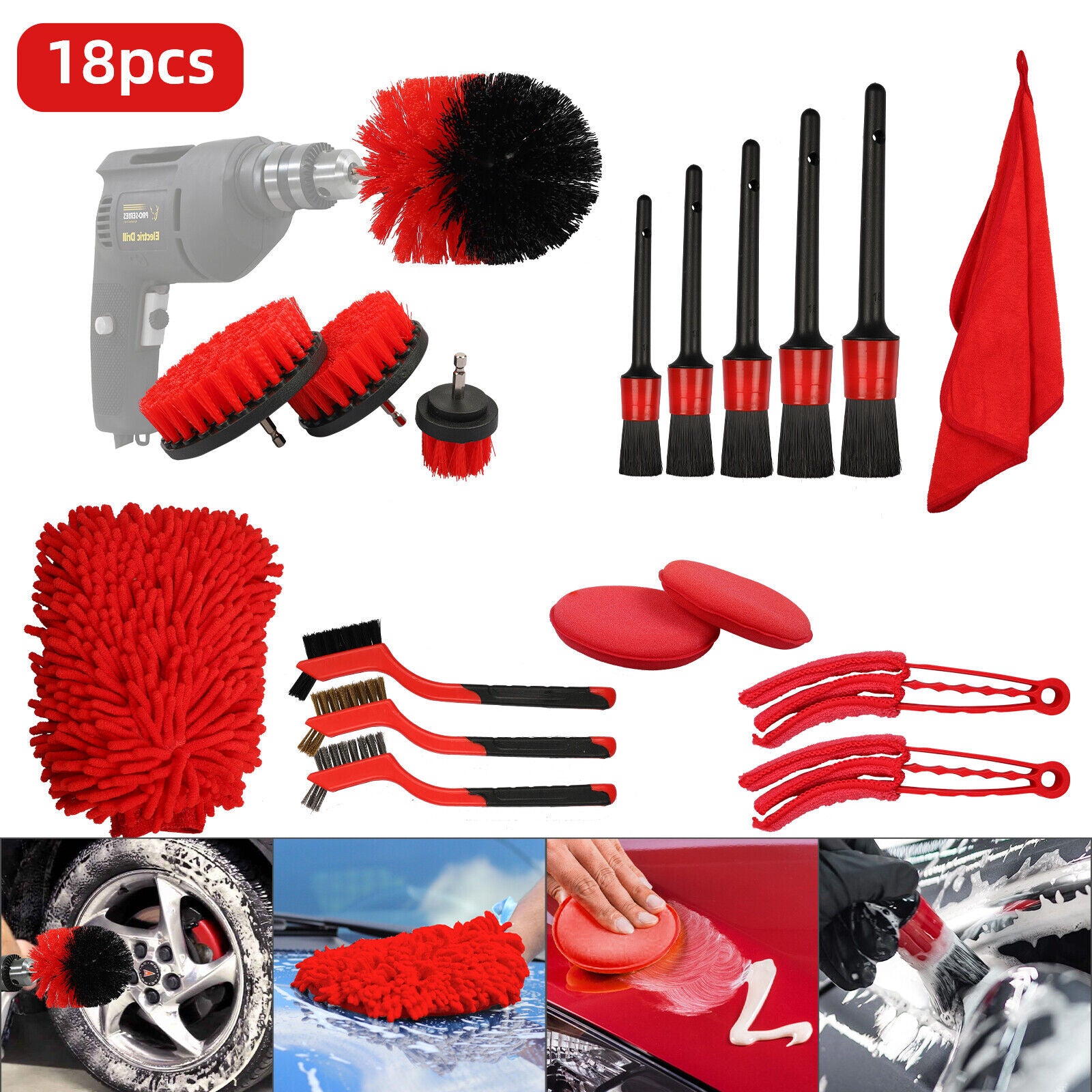 Car Cleaning Kit Auto Detailing Drill Brush Set Interior Exterior Engine Wheel
Features:
【Car Detailing Brushes Set】
You will receive 18pcs/21pcs car detailing cleaning brushes set, including 5*Different size of detailing brushes, 4*Brush Heads, 3*Wire Burshes, 2*Air Conditioner Brush, 2*Foam Cleaning Pad, 1*Car Wash Towel, 1*Car Wash Mitt, 1*Sticking Plate and 2*Wave Sponge(only for 21pcs set), our various car cleaning tools will meet your different car cleaning needs.
【5 Car Detailing Brushes】
5 different sizes detailing brush set are available for any cleaning needs. The smaller detailing brush can get into all the little cracks, the nooks, the lug nuts or tight space. The lager detailing brush suit for cleaning exterior and wider area more efficiently. Such as wheels, air vent, car seats, engine bay, dashboard, emblems and so on.
【4 Drill Brush Heads Set】
Different size of brushes are suitable for almost drills. There are 4 sizes drill cleaning brush heads and 2 cleaning pads, which can easily help scrub deep or large areas, remove stubborn stains and get deeper cleaning, perfect for automotive car wheels hub care. And the air vent brush can be used to clean dust off between vent leaves.
【3 Wire Brushes Set】
3pcs wire brush set includes 1 steel stainless brush, 1 brush and 1 nylon brush.Suitable for different surface types, they will address all your cleaning concerns.You can use the stainless steel wire brush for rust removal, while the nylon brush is perfect for clean delicate household appliances. The brass brush is ideal to clean metal surfaces without scratching them.
【Wide Usage】
18pcs/21pcs car cleaning kit apply to cars, trucks, motorcycles, bicycles, RVs, boats, wheels, tire, rims, spokes, grills, engine bays, exhaust tips, bumpers, inner fender, undercarriage, vents etc,it can be a great gift that keeps on giving for any car buffs, truck enthusiasts or classic car fan.
Specification:
Type: Car Cleaning Kit
Color: Red
Detailing Brush Length: 9.4"/9.2"/9"/8.8"/8.4"
Drill Brush Head Size: 4.6"/3.3"/3"/2"
Wire Brush Size: 7"
Air Conditioner Brush Size: 8.6"
Wash Mitt Size: 10"
Towel Size: 8"
Cleaning Pad Size: 4"
Sticking Plate Size: 4.6"
Wave Sponge Size: 3.3"
Set Quantity: 18Pcs or 21Pcs
Applicable: Car, Bathroom, Furniture, Kitchen, Outdoor, Toilet
Package Included:
1*Car Wash Mitt
1*Car Wash Towel
2*Foam Cleaning Pad
2*Air Conditioner Brush
3*Wire Bursh
5*Different size of detailing brush
4*Brush Heads
1*Sticking Plate (only for 21pcs set)
2*Wave Sponge (only for 21pcs set)
Free Shipping in the USA
We provide free delivery service to 48 States!
Notice: we do not ship to the following locations: the states of Alaska, Hawaii, all off-shore U.S. territories and possessions such as Puerto Rico, Guam and the Virgin Islands, APO and FPO.
Orders will be sent out within 24 hours (Monday - Friday) or 48 hours (Saturday or Sunday).
The standard delivery time is 3-7 business days (varies by destinations).
See our Shipping Policy for details.
30 Days Return & Refund
If you are not completely satisfied with any of our products for any reason, just feel free to contact us, we will help you get it solved.
All products you purchased from BCBMALL can enjoy a 30-day return & refund service.
See our Return & Refund Policy for details.