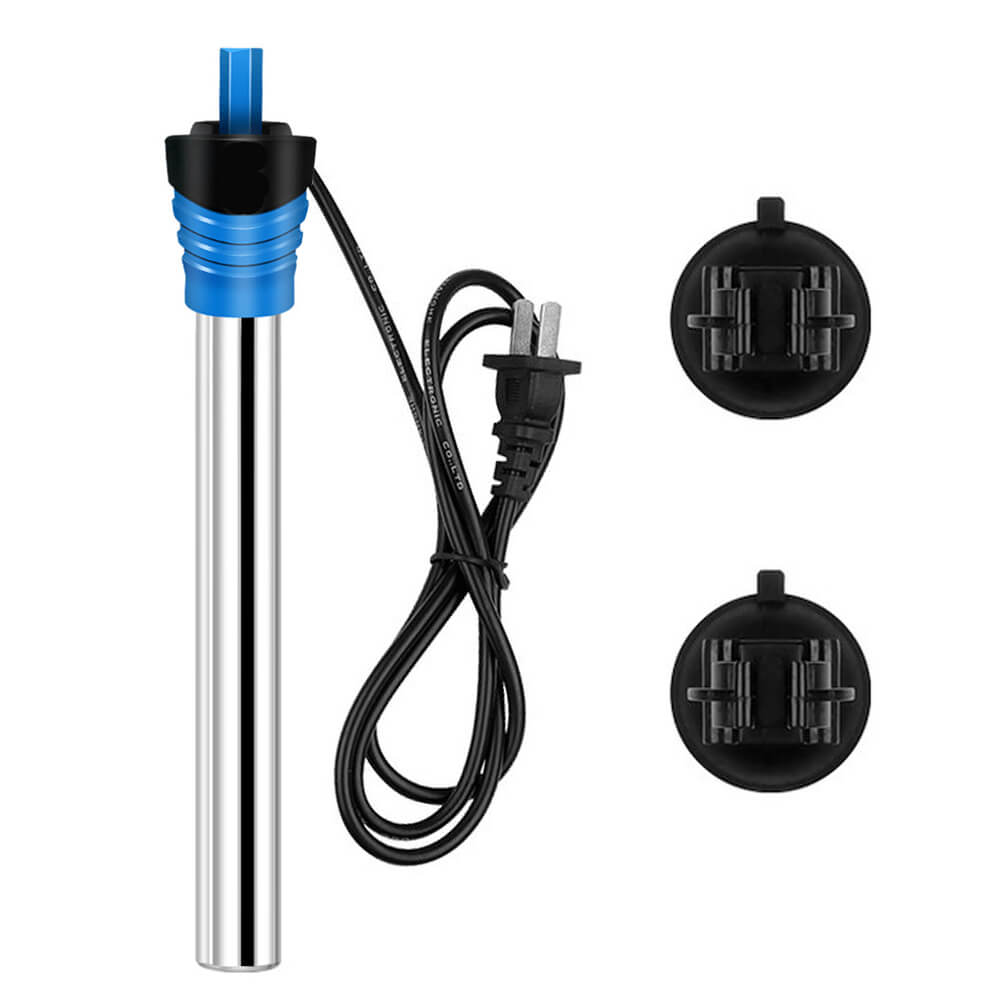 Features:
1. Using high-strength quartz explosion-proof glass  and
pipe thickness of 0.5mm manufacturing, with fast heat, precise temperature control
2. Accurate temperature control, durable and stable and constant, temperature adjustment range: 18℃-34℃/64.4℉-93.2℉
3. Double seal waterproof: safe, reliable and anti-creeping, provide a constant warm environment for your fish to stay healthy.
4. Convenient and Safe: Our aquarium heater thermostat has a slim profile tube for easy placement; Easy to install  
5. High temperature explosion-proof: dry soaking water is not broken! higher efficiency
6. Fish tank aquarium heating rod for freshwater. The surface is made of a high-purity explosion-proof tube,  which will not make your fish tank produce a sense of oldness so that your fish can live carefreely. 
Specifications:
Material: 304 Stainless steel
Cable Length: 50-200W: 120cm, 300W:150cm
Weight :227g (50W); 231 g (100 w); 294 g (200 w); 324 g (300 w)
Outer box size : 50W/100W 8.5*4.5*25cm, 200 W/300 W 8.5 * 4.5 * 34 cm
Temperature: 18℃-34℃/64.4℉-93.2℉
Voltage: 110v-120v 50HZ/60HZ
Power: 50-300W
 Watts
 A

quarium Size

 50W
 5-15 Gal
 100W
 15-25 Gal
 200W
 25-40 Gal
 300W
 40-60 Gal
 
 
Notes:
1. When cleaning the heating rod, please cut off power and cool it 15-20 minutes in advance to avoid burns.
2. Do not use detergent, solvent or acidic liquid for cleaning.
3. Do not allow children to touch and play.
4. This stainless steel heating rod is only suitable for freshwater
5. The heating rod must be completely submerged.
6. Do not insert the heating rod into the sand and stone, so as not to affect the temperature control. 
7. When the heating rod is working, it is recommended to install the water circulation system to make the tank temperature achieve a better balance effect 
8. Due to the strong heating effect of this product, when using this product, the temperature should be raised slowly to the temperature you need. Pay attention to changes in water temperature within the first 48 hours to avoid high temperatures. 
Free Shipping in the USA
We provide free delivery service to 48 States!
Notice: we do not ship to the following locations: the states of Alaska, Hawaii, all off-shore U.S. territories and possessions such as Puerto Rico, Guam and the Virgin Islands, APO and FPO.
Orders will be sent out within 24 hours (Monday - Friday) or 48 hours (Saturday or Sunday).
The standard delivery time is 3-7 business days (varies by destinations).
See our Shipping Policy for details.
30 Days Return & Refund
If you are not completely satisfied with any of our products for any reason, just feel free to contact us, we will help you get it solved.
All products you purchased from BCBMALL can enjoy a 30-day return & refund service.
See our Return & Refund Policy for details.